Get Ex Boyfriend Back Quiz
So you want him back... but you're not sure how he feels. Does your ex miss you? Want you? Still need you in his life? Learn exactly where you stand with him by taking this short, simple quiz.

Finding out how your ex feels about you is never easy. If he ended things, chances are good your ex boyfriend isn't talking or communicating with you right now. Or at least, nowhere near the level he was before, when the two of you were still dating.
But does he love you? What are the signs? Answer these questions honestly, to learn the truth:
1) How long did you and your ex boyfriend go out together?
• We went out for couple of weeks
• We dated for several months.
• Our relationship lasted one to two years.
• We've been dating for more than two years.

0 points
1 point
2 points
3 points

2) How often does your ex contact you right now?
• My ex boyfriend hasn't contacted me at all.
• I talked to him once since he broke up with me.
• My ex texted me a few times after it was over.
• He calls and texts me on a pretty regular basis.

0 points
1 point
2 points
3 points

3) What type of contact does your exboyfriend make?
• He doesn't try to contact me at all.
• My exboyfriend uses text messages to communicate.
• I talk to my ex on Facebook or sometimes through email.
• I've physically seen him a few times, or he stopped by to see me.

0 points
1 point
2 points
3 points

4) How long did your boyfriend wait before reaching out to you?
• He hasn't tried to communicate with me yet.
• He waited a few weeks before contacting me.
• My ex got back in touch with me after a few days.
• He called or texted me that same night he broke up with me.

0 points
1 point
2 points
3 points

5) Does your ex boyfriend still have things at your house?
• He never had anything at my house.
• A few small things, but he's never asked for them.
• He came to get his stuff within a few days of breaking up.
• My ex still has stuff at my house; he hasn't asked for it back.

0 points
1 point
2 points
3 points

6) What kind of body language does your ex boyfriend give off?
• I don't know, we haven't seen each other yet.
• When I'm around him he ignores me like I'm not there.
• He's afraid to look me in the eye. It's really weird.
• My ex boyfriend acts comfortable, like an old friend around me.

0 points
1 point
2 points
3 points

7) After the breakup, what have you and your ex talked about?
• We haven't really talked about anything.
• My ex boyfriend makes small talk, but that's about all he'll say.
• My ex asks specific questions about my life, my job, school, etc...
• He wants to know which guy(s) I've been seeing or hanging out with.

0 points
1 point
2 points
3 points

8) How have your ex's friends been toward you since the breakup?
• I have no more contact with any of his friends.
• My exboyfriend's friends are polite to me, but pretty quiet.
• His friends have consoled me, or offered support after the break.
• My ex's friends talk about him with me a lot and/or tell me things about him.

0 points
1 point
2 points
3 points

9) How has your ex's attitude toward you changed (if at all)?
• I don't know, my ex won't see or talk to me.
• Since the breakup he's been business-like and cold toward me.
• As time went on, my ex has started flirting with me again.
• Lately he's been contacting or texting me more than ever.

0 points
1 point
2 points
3 points

10) Since breaking up, what has he told you about his single life?
• Nothing, I haven't heard anything from him.
• He talks to me, but never mentions his dating life at all.
• My exboyfriend is careful about mentioning which girls he hangs out with.
• On several occasions he's mentioned that he's not dating anyone else.

0 points
1 point
2 points
3 points

11) How much physical intimacy have you had since breaking up?
• We haven't hooked up or done anything together at all.
• I've hung out with my ex boyfriend, with friends or as 'just friends'.
• My exboyfriend has kissed me after breaking up with me. I'm confused.
• I've had sex with my ex boyfriend at least once, or sleep with him sometimes.

0 points
1 point
2 points
3 points

12) What does your exboyfriend say about the past?
• Nothing, because I haven't talked to him.
• He seems uncomfortable talking about the time when we dated each other.
• Sometimes he brings up our past history and mentions a few good times.
• He refers to our relationship positively and/or apologizes that it had to end.

0 points
1 point
2 points
3 points

After answering all the questions, add up your total score. The higher your point total, the more your exboyfriend is thinking about you, and the closer you are to the possibility of getting back together.
More specifically, here's what the results mean:
0 to 10 Points - Your Ex is Distant or Withdrawn
Unfortunately, your ex hasn't shown any signs of missing you yet. Either the breakup is still fresh, or the connections between you have been easier for him to ignore.
Before you get discouraged, understand that certain emotional ties are still there. For the most part they are buried beneath the surface, because your boyfriend found it easier to ignore those feelings than deal with them directly.
There are certain opening moves you need to make right now, before you can get any closer to your ex boyfriend. Making these moves will put you in a better position, and most of them are designed to grab the attention of an exboyfriend who's been ignoring you or not returning your calls.
11 to 19 Points - Your Ex is Warming Up to You
If you scored in this range, it means your boyfriend has given off a few signals that things are returning to normal. By no means is he ready to get back together with you, but the groundwork for positive contact has been laid.
Maybe he misses you. Or maybe he's just being nostalgic about your past history together. Either way, there are steps you can take for encouraging him to walk in your direction. Most of the things you can do here must be subtle, or your ex might get spooked and run in the opposite direction. That said, it's good news that he's not ignoring you completely.
Be sure not to make the mistake of becoming friends with your ex. This will set you back quite a ways if your goal is to get back together with him.
20 to 29 Points - Signs Your Ex Boyfriend Might Want You Back
The contact you have with your ex boyfriend has gone beyond innocent communication and borders on flirtation. And if he's interested in seeing and talking to you again, he might also be interested in a reconciliation.
Your goal at this point should be positive contact. Every time you talk, text, or even see your ex boyfriend, you want to make him as confortable and happy as possible. This means no pouting, no guilt trips, and no deep, soul-searching conversations about what broke the two of you up. That comes later. Right now you want him to enjoy your company, so he'll continue to call, contact, and want to see you again.
If you haven't gotten your ex to see you yet, use these reconnection techniques. Each one of them is geared toward making him see you as a girlfriend again, as well as bring back the original sparks that made him fall in love with you in the first place.
30 Points and Over - Your Ex Boyfriend Wants You Again
Congratulations - you're only a few steps away from getting back with him. The hard part is over, but now comes the fine tuning: making sure that when you and your ex get back together? You STAY TOGETHER.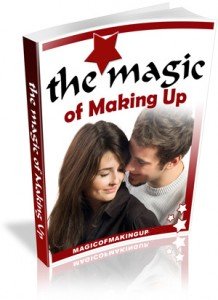 The Magic of Making Up is an all-inclusive, step-by-step guidebook that shows you exactly how to rekindle your ORIGINAL romance.
Remember how much he loved you? Those things aren't gone, they're just temporarily buried, usually under a mound of nonsense that caused you to break up for stupid reasons.
The electricity and sparks you felt whenever you saw each other? Author T.W. Jackson shows you how to return those things to your relationship, through a series of well-written instructions and inspiring videos.
Find out why he left, what you can do to make him return, and how you can KEEP your boyfriend happier than ever before with only a few simple adjustments to how the both of you see the relationship. MAGIC has helped thousands upon thousands of couples get back together for more than 10+ years!
Don't make another bad move without knowing EXACTLY what to do next. Or at the very least, without watching the free opening moves video found here.